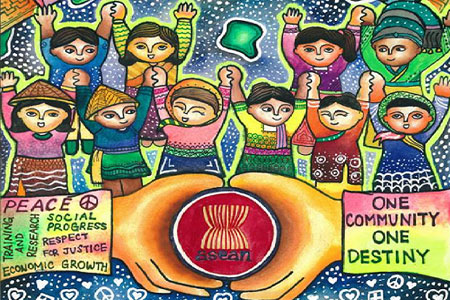 JAKARTA, 8 March 2014 ? International Womens Day observed globally on 8 March celebrates the achievements of women in all walks of life.
On this occasion, the ASEAN Secretariat is joining women all over the world and particularly in the ASEAN region to commemorate this day. The Secretary-General of ASEAN, H.E. Le Luong Minh, said Achieving gender equality, empowering women politically, economically, socially, and culturally is an issue in which both men and women of the ASEAN need to champion more persistently and consistently. Only then will our efforts work effectively towards the development of women in our people-oriented Community.
In commemoration of International Womens Day 2014, the ASEAN Commission on the Promotion and Protection of the Rights of Women and Children (ACWC) initiated the Stop Violence Against Women public campaign. Posters, pamphlets, and stickers were disseminated to ASEAN Member States. The 2014 campaign video can be found at www.asean.org/acwc
All ten ASEAN Member States have ratified the Convention on the Elimination of All Forms of Discrimination Against Women (CEDAW). ASEAN Member States have throughout the years progressed considerably in applying the CEDAW framework for the development and implementation of laws, policies, and programmes. To date, noticeable efforts have been registered throughout the region with new laws enacted and existing laws amended to protect women against domestic violence, sexual harassment, anti-trafficking and other forms of violence. This has been due to direct efforts by the governments, civil society and other stakeholders.
In this vein, ASEAN reaffirmed its goals and commitments to eliminate all forms of violence against women through concerted efforts through the adoption of the Declaration on the Elimination of Violence Against Women and Elimination of Violence Against Children in ASEAN at the 23rd ASEAN Summit on 9 October 2013. Acting upon this, the ACWC and other relevant ASEAN bodies joined hands in bringing those eight areas of commitments reflected in the Declaration into actions.
H.E. Alicia dela Rosa-Bala, Deputy Secretary-General for ASEAN Socio-Cultural Community said We are confident that ASEAN governments will continue in this positive direction of realising the commitment to promote womens rights and participation in the political – security, economic, and socio-cultural spheres of life.